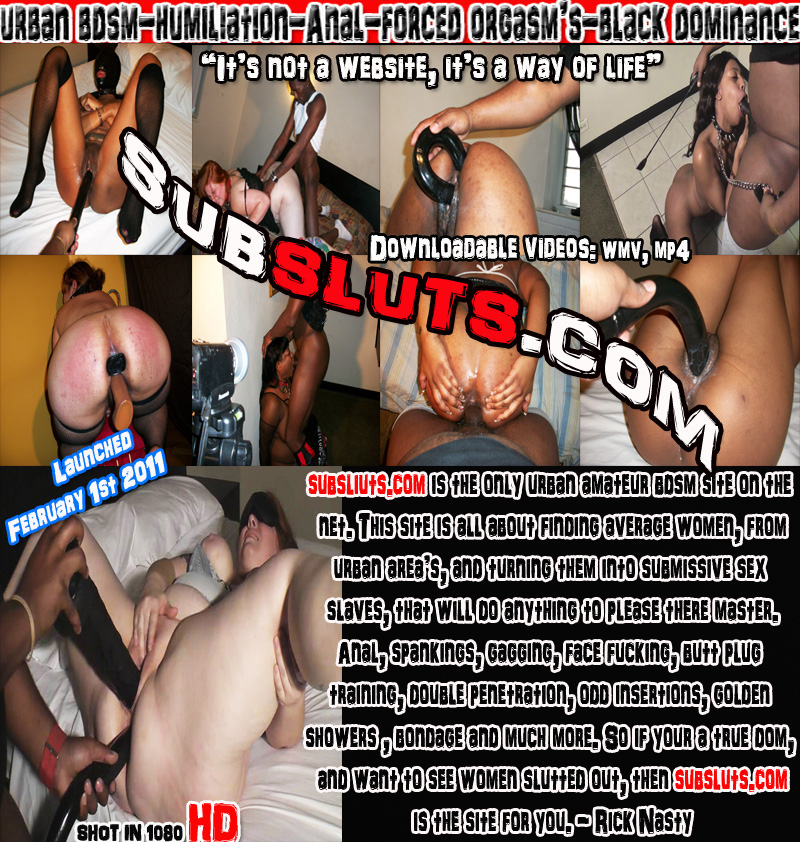 All material shown on this website is consensual. No model was harmed during the filming of these movies.

Name : Rain , Age : 22 , Type: VerySubmissive

Well yall already know who she is, and iam damn sure yall know who he is. This is the return of MR.X . He will now be featured on Subsluts.com

Well , Rainbow loves to be fucked in the ass and she loves to be fisted. So we have both in this video lol. You have to see how MR.X stretches out her pussy with some deep and slow fisting. Part 2;
This is where MR,X gets deep in her ass. This is a must see.

Rick Nasty




Name : Exotica , Age : 23 , Type: VerySubmissive

Oh hell yeah, this scene right here is a deep stroking banger. This feature's Mr.X , taking on Exxxotica a/k/a Show and Tell, and pushing her pussy to the limit. This is a must see, during the video she even starts to tell Mr.X that he has too much dick up inside her.

For those who like to see a sexy sub slut get her pussy fucked out, this is the site for you.

Rick Nasty




JOIN ALL 6 SITES FOR JUST $29.95
Name : Mark Ramos , Age : 22 , Type: submissive

Yo, this video is fuckin crazy. Literally. My homegirl Swirl called me up, really she text me, and said she had a dude that liked to be fucked with a strap, now at first i was like hell no, then i said wait, that would be a great twist kind of video to put up on sub sluts.

So i said fuck it, she called Mark up, and they both came thru and this is the result of what happened. Un real lol.

Rick Nasty




Name : Mark Ramos , Age : 22 , Type: submissive

Here we go again, another video of bitch boy Mark getting his asshole beat in with a strap. This time we have Lucky Staxxx doing her thing.

This is a must see video , for all you freaks out there.

Rick Nasty




Lets set this shit off right. This will be the begining of the new and improved Sub Sluts.com . No more bullshit, from now on, just hard hitting sub material you wont find anywhere else.

This time around, we have part 1 of big booty Abigail and her slut friend wet mouth , taking on GQ, and new guy DDD, Dicken Down Donny. This scene is what subsluts.com is all about. Watch how they handle these 2 bitches in heat.


Rick Nasty



Name : April Mendez , Age : 19 , Type: submissive

This right here is a banger, it features Mr.X and thick Latina freak April Mendez. I had to hook these two up, i felt that April needed to be treated nice and nasty, and i knew Mr. X would treat her right.

This is a must see video, so make sure you join up and check it out.

Rick Nasty




Back again with that second part. This shit doesnt stop. In this final part , you see these subs really get tested to there limit.
Messy facial, and a deep cream pie injection. This is a must see.
Warning this will make you cum hard